EmagiKit Privacy Pod
PREMIUM
The Emagispace® Privacy Pod Premium uses innovative building block technology to provide your company's office space with an easy-to-assemble, cost-effective isolation booth. Our Premium model features full soundproofing, dimmable light switch, and customizable exterior graphics and interior finishes. Build a quiet island in the middle of your noisy open office layout in minutes, not hours or days. Our cost-effective privacy solution can be assembled quickly and moved or modified according to your needs. Made from recycled material, our Premium Privacy Pods are the sustainable choice for office phone booths.
The Privacy Pod Premium provides you with a back-panel window that invites natural lighting into the booth. Studies have shown time and again that exposure to natural lighting has a positive effect on employee mood and productivity.
Contact Emagispace® to place an order, discuss customization options, or learn more about the benefits of adding the attractive Privacy Pod Premium to your office redesign.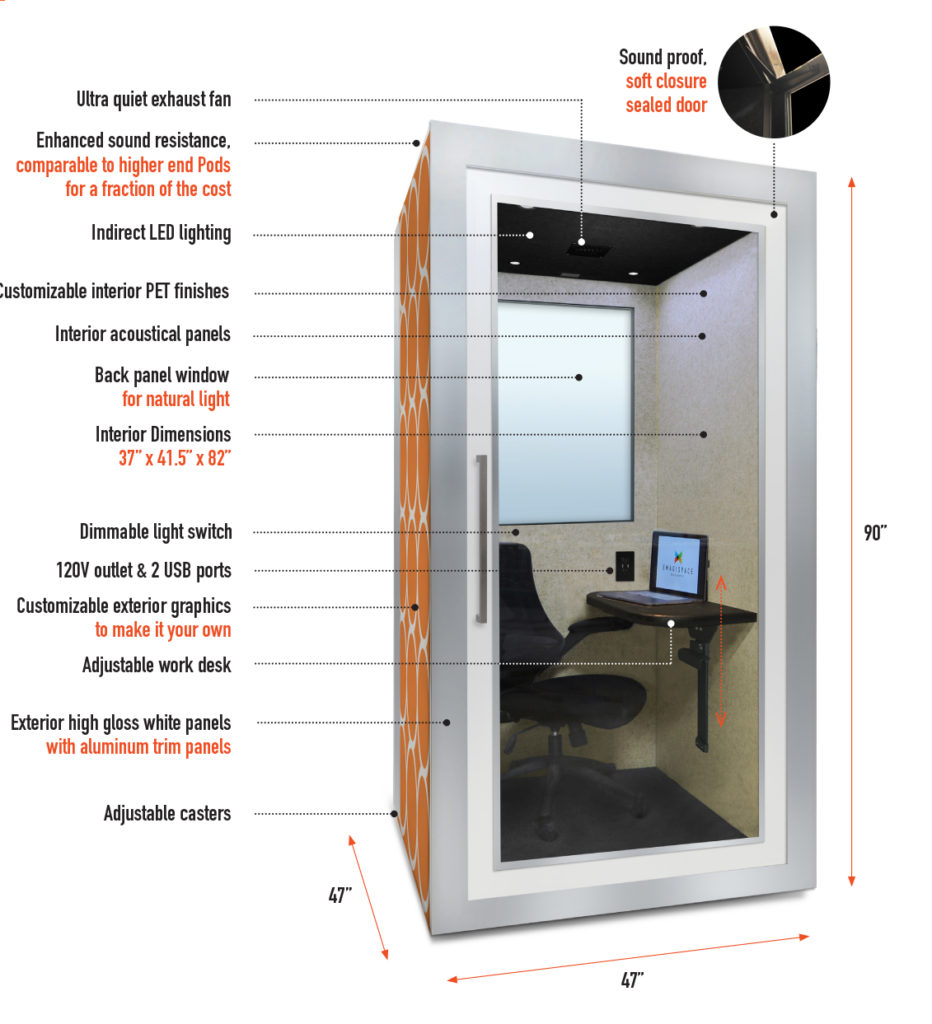 The top-of-the-line Privacy Pod Premium model comes with full soundproof insulation for an acoustically perfect zone, blocking out surrounding office noise and chatter. Whether you need to make a phone call, video conference, or work independently on a laptop for a few hours, the Privacy Pod Premium offers extreme comfort with full ventilation, a dimming light switch, and an adjustable work surface (from 28 to 44 inches).
Order an EmagiKit™ Privacy Pod
Privacy Pod Premium benefits include:
Indirect LED lighting

Soundproof, soft closure sealed door

Ultra-quiet exhaust fan

Occupancy sensor

Interior acoustical panels

120 Volt outlet

2 USB ports

Work surface

Exterior high-gloss white panels with aluminum trim

Adjustable casters

Exterior space: 47" x 47" x 90"

Interior space: 37" x 41.5" x 82"

Full soundproof insulation comparable to higher-end pods for a fraction of the cost

Dimmable light switch

Adjustable work desk height: 28" to 44"

Customizable exterior graphics

Customizable interior PET finishes

Back panel window to allow natural lighting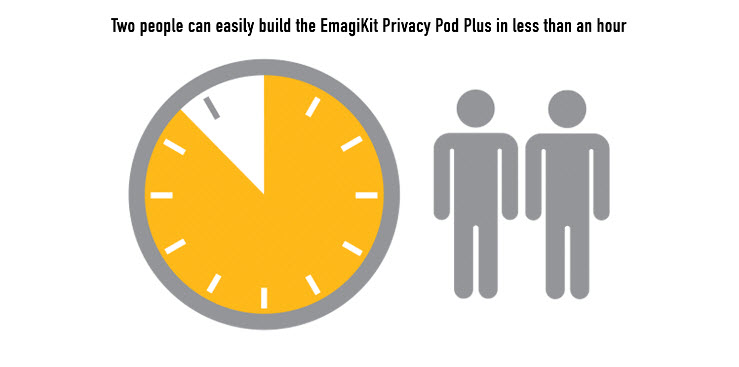 QUICK ASSEMBLY