EmagiKit Privacy Pod
More and more businesses are moving toward open office space that promotes creativity and team collaboration. But that co-working environment can be disruptive when you have to make a private phone call or need a quiet place to think.
Emagispace, offers an innovative personal privacy solution for modern offices looking to improve the look, feel, and function of their environment, without relocating or undergoing extensive remodeling. Transform your work space into an environment that people are excited to work in, using easy-to-assemble, movable, high-quality solutions that adapt to your evolving needs.
What is an office phone booth?
The office phone booth began as a variation on the old style of street corner phone booths, offering a quiet place to conduct calls. In today's modern workplace where collaboration is key, the Privacy Pod enables the best of both worlds – open work space and a quiet isolation booth to conduct calls.
The elegant, turn-key solution for a
personal privacy space
Sleek, attractive design with interior acoustical panels

Save time and labor costs, easy assembly in less than an hour (2 people)

Comes with easy to follow step-by-step instructions
Order an EmagiKit™ Privacy Pod
Bring a sound proof, high-quality, sustainable, easy-to-build privacy pod to your office today!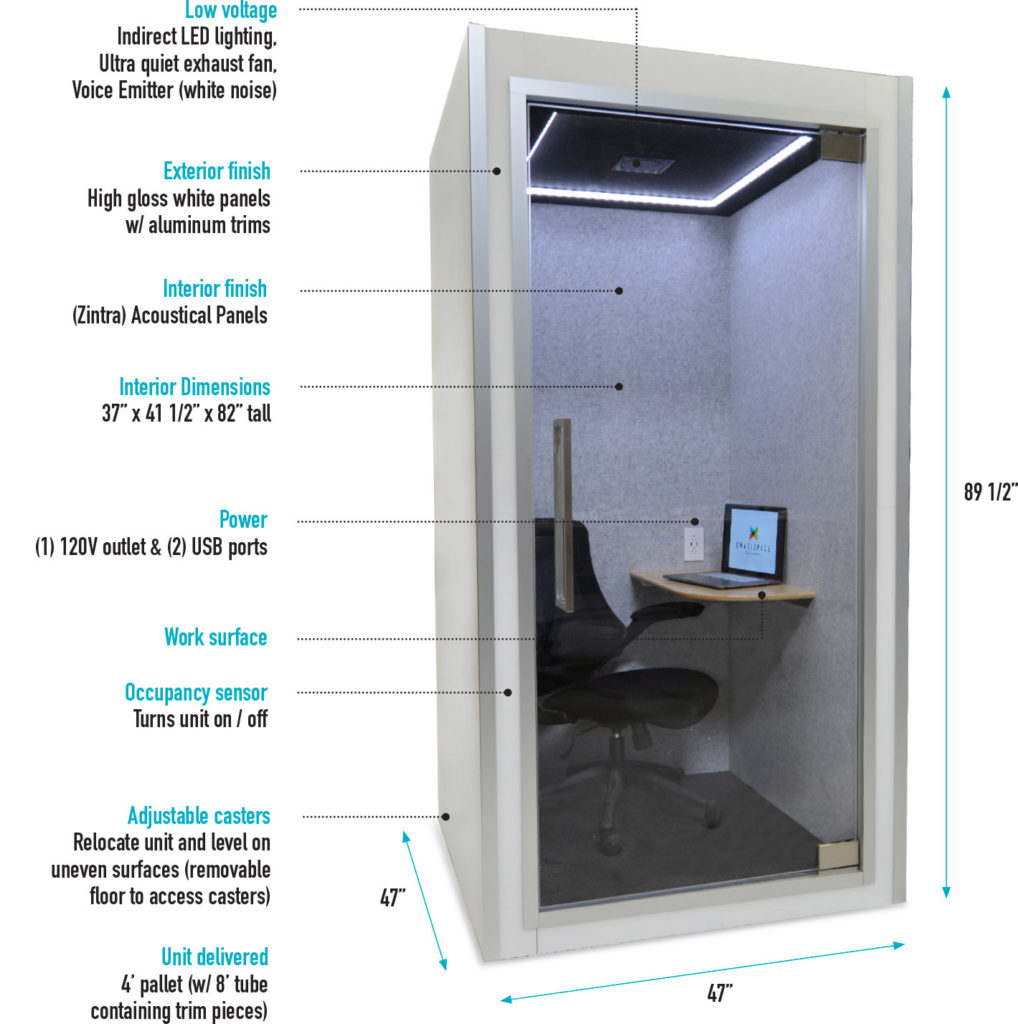 The office phone booth solves some of your biggest challenges to productivity!
Collaborative office spaces with open-floor layouts are casual, friendly, approachable, and supportive environments. For creative industries who use open, co-working work space like PR, marketing, or film-making, colleagues need to be within close proximity to bounce ideas off each other and feel like part of a team.
However, surveys of more than 42,000 workers in the USA, Finland, Canada, and Australia found that 50% of open office workers are frustrated by the lack of sound privacy and the noise levels in their workspaces. "We found people in open plan offices were less satisfied with their workplace environment than those in private offices," said Jungsoo Kim, a researcher at the University of Sydney.
In 2011, Organizational Psychologist Matthew Davis found that open offices foster a "symbolic sense of organizational mission" and make employees feel part of a "more laid-back, innovative enterprise" – but they also sabotage workers' creative thinking processes, attention spans, productivity, and job satisfaction. His review of more than 100 office environment studies identified higher degrees of stress and lower levels of concentration in open layouts.
Of course, it's not always easy to reconfigure an entire office without massive upheaval. Emagispace changes all of that. You can think of the office phone booth as a place of solitude within the larger office environment, which provides a quiet place to take client calls, conduct meetings, video-conference, or perform focused tasks.
Workers are still in the same busy office, but they receive the soundproofing and creative work space to feel a world apart when they need to get down to serious business. Best of all, two people can assemble the Privacy Pod in less than an hour, so you don't have to worry about disturbing your staff during the transition.
Order an EmagiKit™ Privacy Pod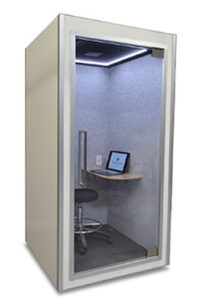 Bring a sound proof, high-quality, sustainable, easy to build privacy pod to your office today!
Contact us for additional information