Commercial Office customization
Emagispace® allows you or your designer to work in all the same ways you have before while providing new build processes that are often quicker and more cost effective. We sustainably separate the EmagiBlock® from the wall covering. In this way, you can embrace the cutting edge modularity of Emagispace® and plan to save, reuse, and repurpose even your wall coverings!
With a library of blocks and a library of skins you can mix and match to create new exciting spaces of all shapes and sizes. Easily reconfigure your conference room, tradeshow booths, commercial retail space, stage and movie sets; you name it and mix and match your skins to create a unified eye-popping design.
We are Unleashed Open Source Building Platform
Anything you can mount on a building material you can probably mount on Emagispace®. From vinyl bus wrap to vintage reclaimed wood, your imagination is unleashed. Simply source what you want and give us a call if you need help with how to install your finish. We pride ourselves on being a canvas for your creativity!
Smooth finishes from polished museum finishes to traditional smooth white wall finishes.
Patterned finishes can be troweled on like stucco and plaster.
Seamed finishes such as brick patterns, wallpapers, etc. are easily applied.
Seamless finishes work just as they do with any construction wood product. Traditional tape, putty, and paint processes are easily achieved.
New cutting edge 3D relief thermoplastics that are printable from deep relief to flatter patterns and come in a vast array of colors and finishes.
White to saturated, almost all of the above option allow for painting in any color.
Wall Finishing Options We Can Ship to Your Door
EmagiClick™ Wall-cladding System
A revolutionary finishing system, EmagiClick™, quickly and easily installs up to 7 times faster than traditional finishes. A virtually seamless finish with contemporary aesthetics, EmagiClick™ is the perfect modular, adaptable covering, that allows for quick reconfiguration and redecorating.
MDF Decorative Panels
Emagispace® has assembled a vast array of inspiring solutions designed to meet your aesthetic and practical needs. We offer a wide array of finishes that mount to MDF panels which are then attached to EmagiBlock® walls. From bare MDF to colors to focal point to mood setting, we can provide anything from dry-erase and cork-board to immersive and provocative digital images in 3D relief, to acoustically damping flush mounted baffles.
Using the EmagiClick Wall-cladding System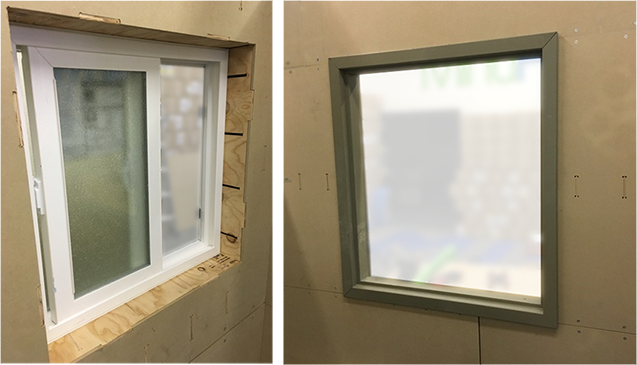 Add windows
It's no problem to incorporate a window into a single EmagiBlock® or for larger windows, into an EmagiBlock® wall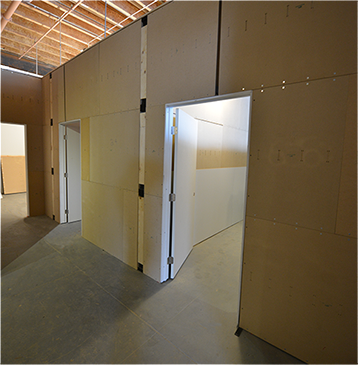 Install doors
The EmagiBlock® platform makes it easy to add a door into any wall, in almost any location
Installing doors and windows