The Privacy Pod Solutions
Many organizations have moved toward open office design to maximize space utilization, improve collaboration and foster creativity. While there are many benefits, this new way of working has also created challenges for employees seeking spaces to focus and take refuge from the dynamic activity of the modern workplace.
EMAGISPACE PRIVACY POD MODELS
The Solution
Emagispace® offers a high-performance, cost-effective personal privacy solution that empowers employees to be more productive and satisfied at work. EmagiKit Privacy Pods are quiet spaces to get work done – from private phone calls to a personal place to focus.
The Emagispace Difference
Working closely with industry-leading companies and top dealers around the country, Emagispace has developed a Privacy Pod leveraging patented EmagiBlock® technology that delivers reliable performance at a fraction of the cost of most phone booths on the market today. EmagiKit Privacy Pods are a result of that collaborative and iterative innovation process.
Emagispace offers peace of mind with minimal upfront cost, easy returns and low risk to your business. Order an EmagiKit Privacy Pod today!
Benefits of an Office Phone Booth from Emagispace®
The EmagiKit Privacy Pod is our take on the office phone booth. Benefits include:
QUIET – Enjoy perfect soundproofing with a fully sealed glass door, ultra-quiet exhaust fan and two-tone acoustical panels.
STREAMLINED – The 47" x 47" x 90" footprint is discreet, while the white beveled crystal writable surface looks aesthetically pleasing anywhere you want to squeeze it.
DURABLE – Our patented EmagiBlock technology is built to last and includes a 1-year full warranty.
EASY – The product is easy for two people to install, configure, move, and store.
AFFORDABLE – You receive a high-end product for a mid-market price.
QUICK DELIVERY – Delivered in 10 business days from payment.
PRICE TO QUALITY COMPARISON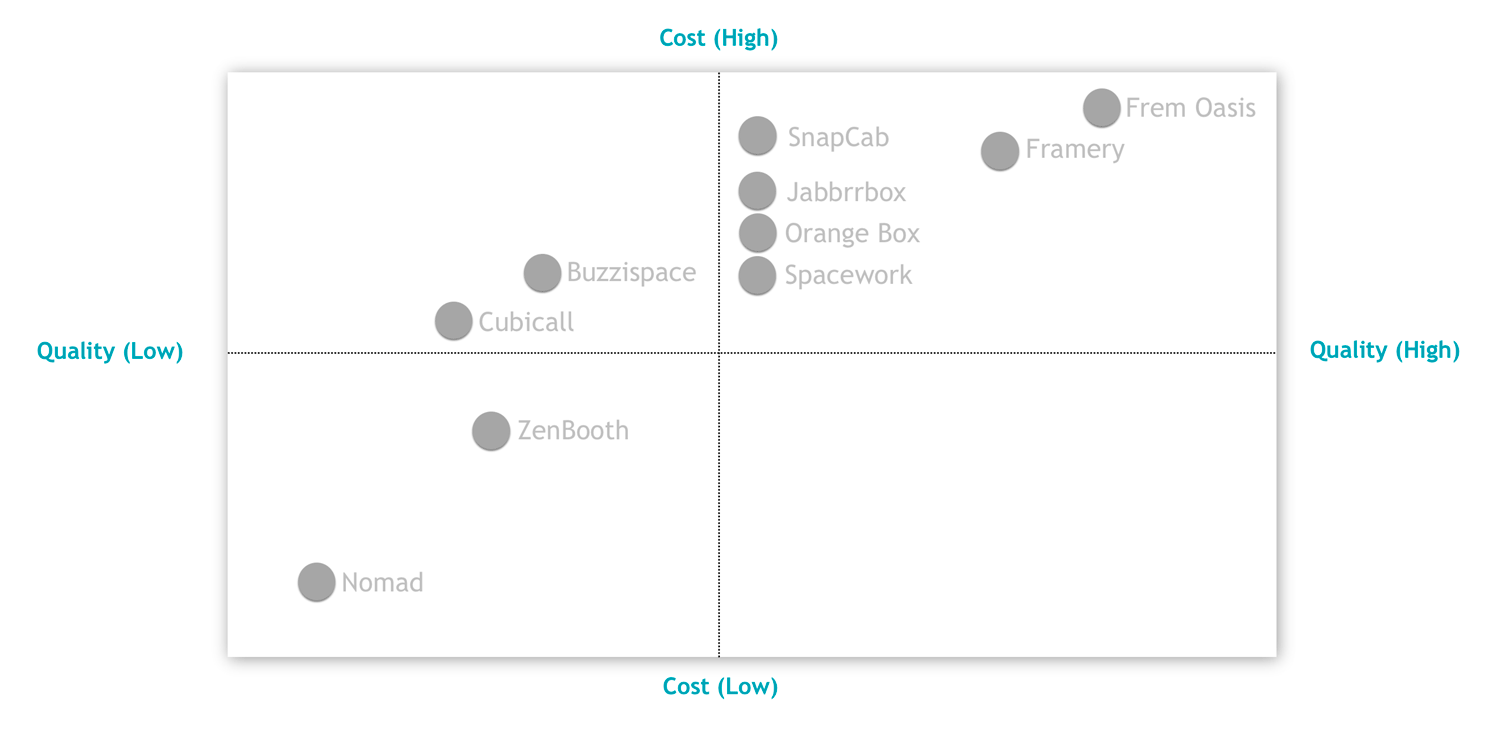 Why This Matters To Your Organization
EmagiKit Privacy Pods effectively support common organizational workplace strategy goals including minimizing cost, maximizing space utilization and supporting effective work process. They also encourage attraction and retention by providing go-to spaces for people to be more productive while still maintaining a collaborative environment.
While collaboration has been shown critical to innovation, Emagispace also understands the drawbacks to open plan settings from employees' perspectives, particularly when it comes to privacy.
Organizations can leverage EmagiKit Privacy Pods to provide employees the quiet spaces they need to be more effective and engaged. The pods are great for client calls, video conferencing or doing focused work.
EmagiKit Privacy Pods give organizations incredible flexibility – they are easy to install with only two people in less than 30 minutes so it provides the ability to easily reconfigure space without the burden of rigid building or millworks solutions.
Our cost-effective personal privacy solution is made with high-performance materials. The patented interlocking blocks are made from ABS plastic, faced with environmentally-friendly, medium-density fiberboard panels (MDF). Retractable casters make the pods easy to move around the office as you see fit. The pods can be broken down and stored for long periods of time if necessary or easily moved to a new office location.
Emagikit Privacy Pod Models
If you're ready to incorporate a phone pod into your office space, we have multiple Privacy Pod models for you to choose from:
Privacy Pod Plus (our most popular)
Full soundproof insulation comparable to higher-end pods for a fraction of the cost

Dimmable light switch

Adjustable work desk height: 28" to 44"
Who Uses Phone Booths in the Workplace?
The office phone booth has made its comeback along with the rise of cell phones in the workplace. Talking on the telephone at work has become an etiquette issue and, in some cases, a pollutant overshadowing productivity and workplace satisfaction. One study by the University of California Irvine and Berlin's Humboldt University found that it can take up to 23 minutes to restore focus after an interruption, so you can imagine how much phone booths can help workers struggling to remain on-task! As the Financial Post put it, phone booths are "tiny cells of sanity" that "prove a reprieve from the noisiness (and nosiness) of an open-concept office." With a phone booth, your employees no longer have to run out to their cars, seek an empty stairwell or hallway to sneak a call, or take a break to talk privately.
A Soundproof Pod is not Just for Phone Call Privacy
If you're tired of that one person hogging up an entire conference room to make a call, you're not alone! A meeting pod frees up precious real estate for larger group meetings that truly need the space. Many types of businesses function better with the addition of soundproof pods. Real estate, marketing, and design firms all thrive on group interactions, but also involve tasks that require peace and quiet to seal the deal. Emagispace is pleased to offer that breath of fresh air amid the chaos of the open floor.
In addition to offering privacy for phone calls, a soundproof pod can:
Give individual workers on laptops a soundproof, distraction-free workspace, perfectly suited for solo tasks.

Create the perfect space for Skype meetings, video conferences, and tele-conferences,

without disturbance.

Provide you with added USB outlets for charging your devices.

Offer a space for sick workers, limiting the spread of germs with its private ventilation system.

Allow you to move the privacy pods around the office, depending on who needs it at the time.

Let supervisors keep an eye on the main floor, while still being able to privately take care of business.
Contact Emagispace® to learn more about how an EmagiKit Privacy Pod can improve the quality of your office.
Order an EmagiKit™ Privacy Pod