It's a sad-but-true fact that some of us spend more time in our workspaces than our homes. That being said, making your office enviroments unique and appealing should be near the top of your to-do list, and Emagispace® — an innovator in office design ideas – specializes in doing just this for our clients.
One way to re-energize your office space is to create unique accent walls. Three easy but effective ways to make an accent wall include using paint, wallpaper and panels. While the first two methods are more traditional in scope, EmagiKit Accent Walls enable virtually any wall finish you can imagine and source for your workspace.
Paint
The easiest way to create an eye-popping workplace is to paint one accent wall a different color than the rest of the space, drawing the eye to it. Express your organization's own personal style with a bold, deep or bright color.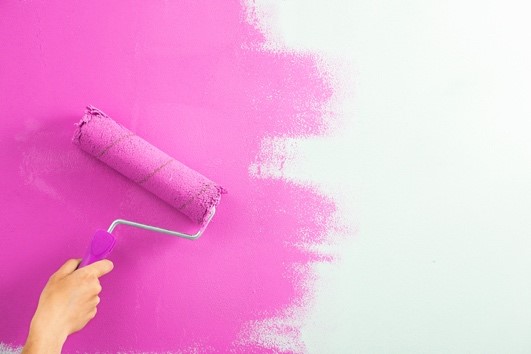 Want to amp up functionality? Use chalkboard paint, available in a variety of hues, and use different color chalks to personalize your team's space to promote creativity.
Specialty paint rollers with patterns are also available to give a dimensional look for visual intrigue..
Wallpaper
If you decide to use wallpaper to create your accent wall, you have a plethora of choices in designs and materials.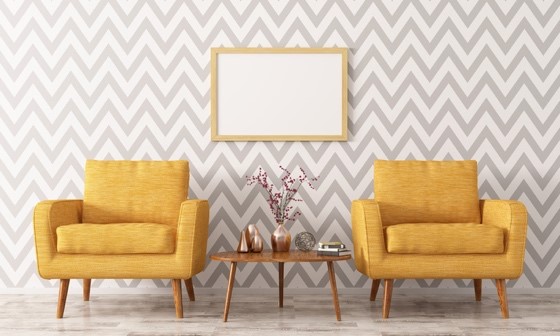 One option is to use fabric sheets which are affixed with liquid starch. The starch works like glue to hold the sheets in place, but washes off the walls easily with soap and water when removed.
If you choose a patterned design, be sure to take the time to align the pattern across the wall to give it a professional look and to avoid distracting unevenness. The point is to make you more productive on the job, not less!
Panels
A unique way to accent a wall is using panels, which can include smooth, dry-wall looking surfaces, fabric and other interesting materials like reclaimed wood.
Floor-to-ceiling draperies or curtains can be made using drapery panels or remnant fabric from a bolt of material. It's an easy DIY project; just fuse the fabric together until it's at least two times as wide as the wall space, and hem it on all sides. You can also add a rod pocket to the back so you can slide it over a wall-to-wall curtain wire.
Another option is to gather the header until it's the approximate width of the wall, and sew Velcro tape across the bunched header. Staple the matching strip of Velcro tape along the top of your accent wall. Press the two halves of the tape together – and voila! – you've created a dramatic backdrop for your workspace.
Bringing the outdoors indoors is another way to add inspiration and character to your office.  Emagispace® offers a wall solution to create compelling visual appeal. Whether it's office space or gallery and retail displays, you can easily upgrade your environment with a reclaimed, wood finish (see video) that is both sustainable and elegant. The EmagiKit Accent Walls are available in 8' length.
Emagispace® is transforming the way the world thinks about office interior design. Contact us today to learn more about how you can make your workspace work for you.