Pop by any coffee shop and you're bound to see it: the droves of today's gig economy and workforce nestled into corners with laptops, headphones and assignments on standby.
With advancements in technology and digital connectivity, the rise of coworking spaces has gone from yesterday's coffee rendezvous to versatile work spaces. Places such as WeWork, Galvanize and The Yard are bridging the gap between offices and on-demand public areas.
It's easy to see the influence millennial workers are having on these work spaces. As Axis House recently shared, "Many [millennials] are ambitious and want to seek out the ability to evolve their organization's workplace culture through enhanced design and ways of working."
The rise of the freelancer and remote staff member is bringing a new edge to today's office design: While cubicles and private offices were the mainstay of yesterday's interiors, today many companies are moving towards a freer, more welcoming layout.
Yet, these changes are not without their drawbacks.
How Today's Open Offices Hinder Productivity for Many
We've written before how many workplaces are succeeding by moving away from open offices toward flexible workspaces. Let's explore that evolution once more, but this time through the lens of employee personalities.
Despite the promise collaborative cultures that open offices were intended to foster, the data actually suggests these office layouts have a whole host of downsides. Here are three of the big ones:
1. They can hinder productivity. Productivity expert Laura Stack shares that an estimated 86 minutes on average each day is lost due to distractions and random interruptions. That's just a little over seven hours in a week.
2. There is little to no privacy. While working on confidential information might not be the creed of every office, some employees find the lack of walls and personal space challenging to deal with.
3. They are not optimal for introverted personalities or high-performers. "The uncontrolled interactions, higher levels of stress, and lower levels of concentration and motivation affect everyone, but have an even more significant impact on those of us who are internally orientated to the world," says introvert and sensitivity coach Andy Mort.
That last point is a big one. While some people might thrive in an open environment, introverts and people who thrive in concentrative work do not. For these folks, Laura Entis at Fortune Magazine writes, the open office plan could be on the up and outs.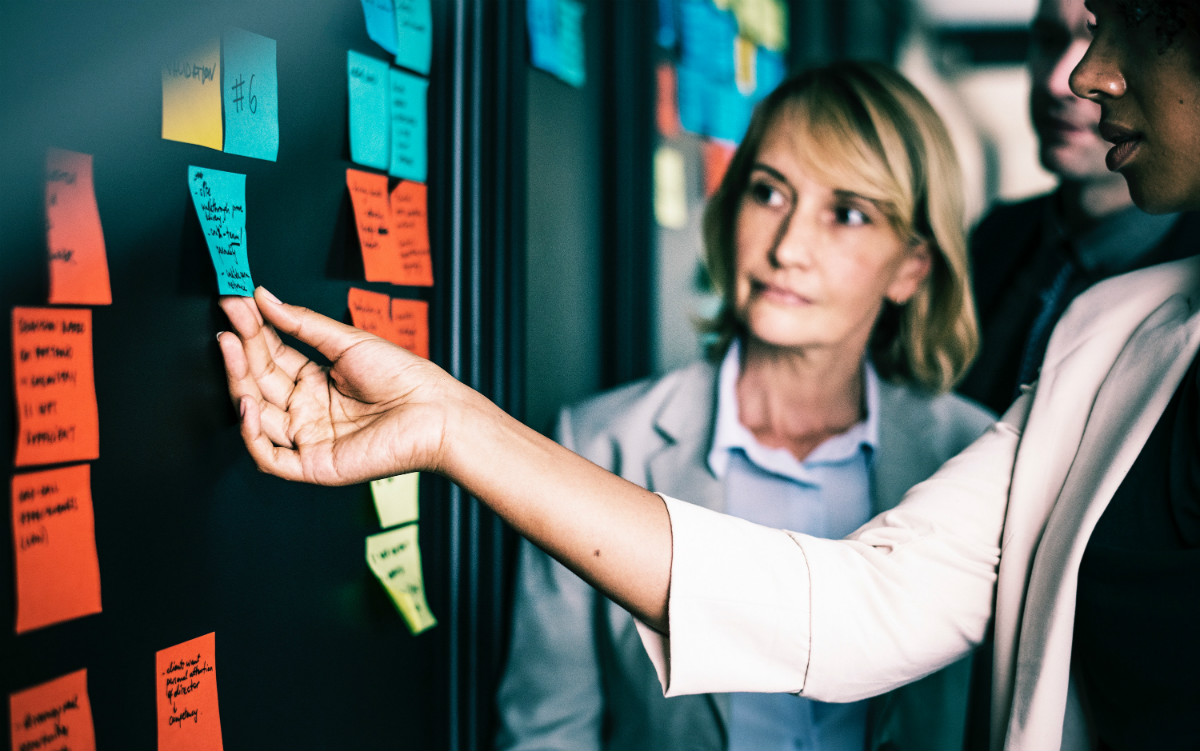 Enter: The Mixed-Use Space
Activity based working, which mixed-use spaces facilitate, "provides employees with a variety of predetermined activity areas that allow them to conduct specific tasks including learning, focusing, collaborating and socializing," Keti Malkoski at Office Snapshots explains.
Even more social colleagues will find themselves needing time away from the noise pollution and distraction that comes with an open office. One solution, as Digitalux Founder and Director of Marketing Daniel Scalco encourages, is to add "private alcoves, work bays or breakout rooms to an otherwise open office space."
Mixing in these flex spaces turns an overstimulated environment into the best of both worlds, for introverts and extroverts alike.
Today's leading startups are learning how to make use of both an open and flexible floorplan. Take for example R/GA's environment shift. Or the incredible dynamics playing out at Etsy, where employees are empowered to choose where they'd like to work and how they control their environment. As Instinctli founder Joyce Yu affirms, "Every space should be curated according to the culture while at the same time ensuring a free-flowing atmosphere with a variety of work mode options."
Creating mixed-use spaces doesn't have to be a headache, though. With dynamic privacy pods and freestanding, connectable modular walls, transforming an open office into a mixed-used space can be easy, affordable and streamlined.
Create Collaborative Lounge Spaces
One way your office can get the best of both worlds with little fuss or muss? Create small work areas where teams can meet and brainstorm — away from the commotion.
Workplace change management consultant Robert Garrett suggests "setting up a working pilot space … before committing the organization to such a huge change." These kinds of gradual changes can be as simple as pulling a few couches, arm chairs and dual-purpose ottomans together to allow for intimate gatherings and informal conversations.
Fast Company editor Anjali Mullany highlights one such solution implemented by the online financial advisors and investment startup Betterment. Not only does Betterment have quiet breakout rooms, but they've also designed spaces for teams to connect and collaborate. "More couches and breakfast nooks in the Betterment space are designated for small group conversations and co-working sessions," Mullany explains.
As the article points out, Betterment's current space is its third rendition, giving even more credo to the idea that creating mixed-use spaces are a matter of listening to employee needs and being open to trying new, ever-evolving solutions.
Designate 'Quiet' Areas — Introverts and Extroverts Alike Need These
Transforming a space doesn't always mean going out on a whim and rearranging the furniture. If you're looking for new ways to give your employees flexibility, think about what you already have. Is there a kitchen being underutilized? Maybe there's a smaller boardroom that can double as a self-assigned cubicle? Taking note of your current space, and seeing where adjustments can be made, can go a long way in creating a more inviting work environment.
Even underutilized meeting rooms can double as your company's quiet room. Designer and consultant Elan Morgan suggests introverts and extroverts use these everyday spaces to keep the stress of an open office plan at bay. If meeting rooms tend to stay open throughout the week, encourage a company policy of using these spaces when the distractions and noise get to be too much.
Most importantly, making these changes and fully expressing the intent behind creating these mixed-use spaces will be key to seeing these new changes succeed. When designating "quiet" areas, it's important to make sure that everyone understands the protocol behind these spaces to help your company both embrace the changes and encourage the boost in productivity.
Annamarie Mann, employee engagement and well-being practice manager at Gallup, affirms "employees who have the ability to move to different areas at work are 1.3 times more likely to be engaged than other employees."
As employees begin to understand the need for flexibility and moving through the office, they may even find new ways to create their own flex spaces.
Be clear in communicating and sharing these benefits with your teams.
Carve Out Private Nooks, But Give Collaborators Their Space, Too
If your company has a mix of in-house and remote staff, having a few open cubicles, or "hot-desking," can be just the perfect solution for an open floor plan. "Hot-desking simply means no one in the office has an assigned desk or seating area," HubSpot's Lindsay Kolowich explains.
This can look different for every space, but the main idea is to let workers pick where they'd like to work. Clear out a couple of desks for flex spaces to re-configure an existing space, or even use an office phone booth for freelancers and in-house staff who need to make calls without disturbing their nearby neighbors.
All Hands contributor Devon Bohm suggests even creating what she calls "touchdown stations," areas that "can be used by anyone to make a call, check email, charge a laptop—these decrease the need for the personalized workstation and accommodate visitors or remote employees who are in the office for the day. Having these alternative options day to day, options that allow employees to find what works best for them."
Take Mobile Furniture For A Ride
Office always shifting? Collaborative habitats will benefit greatly from furniture that can be twisted, snaked and slid around the office.
By now, many of us have probably heard of the benefits of one such option — adjustable desks. For example, management can "easily adapt a desk to a wide variety of people (aging, disabled, obese, 5th and 95th percentile), instead of trying to adapt a diverse workforce to one or two fixed desk configurations," Mike Richards at Ergo Experts says.
The ability to have desks of different heights is also great for office ergonomics. By giving people the option to sit, stand or otherwise adjust their desk height to whatever position is comfortable for them, you make their working day much more productive. In fact, the Cleveland Browns front office made the height-adjustable VARIDESK a part of its employee wellness program.
But the innovation in mobile furniture does not stop there. From allowing a creative team to easily move their chairs and desks together for a quick session to a receptionist desk doubling as a free-standing snack bar, the latest developments are far and wide.
When it comes to creating pieces for more practical use, interior design is beginning to really push the needle forward. Trish Donnally, co-author of design books The New Traditional and The Collected Home, says the technological shifts in design we're seeing today are only the beginning. Already, a number of new innovations that help keep office spaces pliable and open to the changing needs of its employees are popping up.
"Among the many agile office elements available are carpet tiles that can be replaced after a spill, glass walls that can be reconfigured, workspace dividers that can be moved to redefine a workstation, filing cabinets that can be rolled to a new location, adjustable desks that can be lowered and raised for a worker's well-being, and LED light fixtures that can be snapped in and out of a ceiling grid," she points out.
With today's employees getting more and more savvy about how they interact, connect and create, workplaces are seeing a huge change in their design and spaces. While open offices are a move in the right direction, they also leave room for greater improvement.
For instance, in a 2017 write up Work Design Magazine provided five new work solutions that are taking us from the open office plan to more collaborative and inviting workspaces. (Work Design also highlighted our Clickwall System in their 2018 NeoCon coverage this summer.) The office isn't just a place we go to work anymore. Today, it's where we go to exchange and create ideas. With this change in our work lives, workers are looking for more and more flexibility within their environments and more control of how and where they work.
Mixed-use spaces can do wonders for the workforce of the future. By intentionally creating collaborative team spaces, identifying quiet areas, using multifunctional furniture, assigning private alcoves and investing in moveable pieces of furniture, companies can create an environment that truly speaks to and caters to its flourishing culture.
Images by: Ellyot, rawpixel, Alesia Kazantceva